EVERYTHING YOU NEED TO KNOW ABOUT NFTs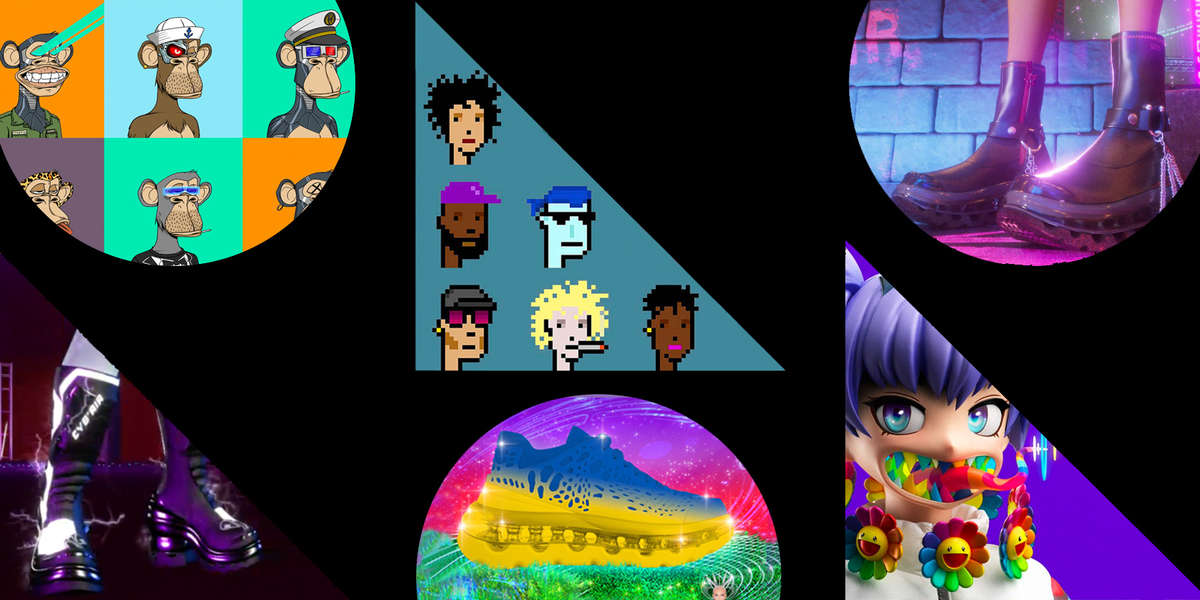 We love you, we love your feet, and we love the metaverse — a wild new way to express ourselves and our style through our digital life.
As you may know, we've been playing in the world of virtual shoes, but in case this is new to you, here are some answers to your most-asked questions!

WHAT IS AN NFT?
NFTs are a new medium of owning digital art across different formats and platforms. It allows pioneering brands like us to showcase and sell our digital creations, so that you can wear them across the metaverse, whilst establishing full transparency when it comes to ownership. NFT stands for Non-Fungible Token, a unique unit of data that is stored on a blockchain, and guarantees that your digital asset is one-of-a-kind, whilst guaranteeing the authenticity of our products. NFTs hold 'smart contracts' that operate as a map of ownership to your digital asset, like an artist's dated signature or an exclusive time-stamp that cannot be replaced. As our digital identities become more a part of our everyday life, it also becomes important to find different ways of expanding and expressing it. Our NFTs translate the passion we put into crafting our physical shoes into unique 3D shoes, and the exclusive metaverse experiences that come with them.

WHY IS SHOES 53045 MAKING NFTs?
It's a natural evolution for us! We launched as a digital-native brand before the metaverse went mainstream, and our brand aesthetic has been digital art-oriented since day 1. A big part of our lives nowadays is our digital identity. People make avatars, and they need to be dressed up. We want our fans to be able to wear our shoes in their digital life as well. Plus, the metaverse is an amazing creative playground for our design team, and the digital platforms we collaborate with to create virtual places where you can experience the shoes — because there are no limits!

HOW DO WE BUY NFTs?
Our NFTs are available through our drops on TheDematerialised.com and through our storefront on Bitski. They are sometimes available as a package that includes a pair of our exclusive physical shoes — which is called a phygital bundle. Other times they are part of immersive experiences that allow you to express your style in your favorite metaverse spots. Through these platforms, you get to be an early participant in our NFT revolution without the complexity of navigating cryptocurrency! You don't have to use cryptocurrency to buy them — you can pay with regular currency, like a debit/credit card, or Apple and Google Pay. We are excited to work with platforms that are inclusive of your NFT journey and true pioneers on the merging between the digital and the physical worlds, making it as seamless as possible.

WHAT DO I GET IF I BUY AN NFT? AND HOW DO I USE IT?
With each NFT drip, we create a different experience for the NFT SHOES 53045 community and collaborate with pioneering Web3 developers to guarantee a one-of-a-kind metaverse moment.
Our main focus, apart from the quality of our physical shoes, is the utility of our NFTs and experimentation behind each digital experience we develop! As a brand, we challenge ourselves so that each drop elevates your metaverse experience.


For us, every NFT includes a package of activations:
- You can "wear" our shoes anywhere though the Snapchat AR Lenses, and capture videos or images that can later be shared with our community.
- You can also activate your 3d wearable assets to different platforms, enabled by the pioneering web3 and gaming partners we collaborate with like the IMVU, Decentraland, Bitski… Our community of metaverse partners is always growing, and this allows us to pioneer metaverse experiences like no one else.
- You can trade and resell your SHOES NFT, confirming that metaverse fashion is NOT fast fashion. Reselling is available via Bitksi and will be available later this year on The Dematerialised and its Lukso blockchain.
- Finally, you can showcase your NFTs on The Dematerialised's Universal Profile (part of LUKSO), or anywhere else where you can upload an image or video.
Our NFTs come in two formats:
- The Digital NFTs include an exclusive digital version of our SHOES, which you can wear digitally, and unlock all of the metaverse experiences that come with them.
- The Phygital version includes all of this digital metaverse adventures, PLUS a physical pair of our 100% Vegan and Unisex sneakers, with the bubble air comfort you already know.
It is important to note that as a new medium, NFT development and integration are always evolving, and at SHOES challenge ourselves to always bring you the latest and best experience!
NFT, for us, is an art form and we cannot wait to continue this journey with you!
If you have any questions or suggestions, write us on
Discord.
WHERE CAN I BUY SHOES 53045'S NFT?
Mix'Air X Rico Nasty are sold out, but you can still buy from the Cyb'Air and Shoetopia NFT collections::
- Cyb'Air collection on
TheDematerialised
- Shoetopia collection on
Bitski
- Cyberpunk collection on
Futures Factory